Business Directory
The Independent Day School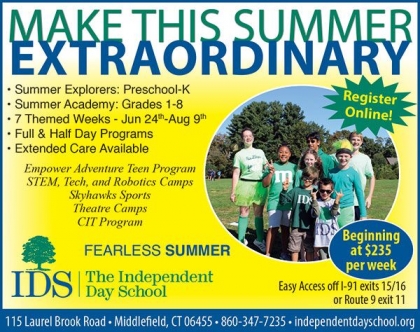 Welcome to The Independent Day School, a private school conveniently located on 33 beautiful acres in Middlefield, CT serviing children ages 3 to grade 8. By knowing students deeply both as individuals and learners, IDS inspires a community of independent thinkers who are resilient and confident to take risks as they connect with others in the joyful pursuit of learning.
The IDS Advantage offers:
Centers of Excellence: IDS students grow into independent, original and collaborative thinkers who aren't confined to examining things in conventional ways. Although IDS has always emphasized these skills, we have embarked on an ambitious effort to more intentionally develop and connect these important subjects by creating four Centers of Excellence: Global Citizenship, Creative Arts, Environmental Literacy, and Design, Innovation, and Entrepreneurship.
Fearless Learning: At IDS, we work to remove fear from the equation. Exploring interests and curiosities is encouraged. The result is preschool, elementary and middle school students who are fearless at school.
Social & Emotional Curriculum: Kind and curious. Helpful and hardworking. Our students root for one another and bring out the best selves in each other.
When it comes to the education of our children, there is no such thing as good enough. Prospective parents who visit IDS often arrive with a list of concerns about their children's prior educational experiences that have caused both exasperation and frustration. Tales of boredom, teaching to the test and unwanted anonymity abound, and unfortunately, education becomes something to be endured, rather than an enriching journey to be embraced, celebrated and enjoyed.
As a result, visiting parents often ask us to describe how IDS is different and to be quite honest; we sometimes don't know where to begin. We could start by speaking of our beautiful 33-acre campus and winding nature trails, challenging academics, and supportive learning environment. Or...we could go into great detail about our bold, inquisitive students, our Centers of Excellence, and our superb secondary school placement. However, despite all of these options, we generally start with something much more basic: the smiles. Independent Day School students absolutely love coming to school, and the evidence stretches from ear-to-ear and extends throughout every grade.
Contact us today to schedule a visit.Wewould love to share our the warmth of our campus with you.
Categories:
Educational & Enrichment Programs