Business Directory
EXPLO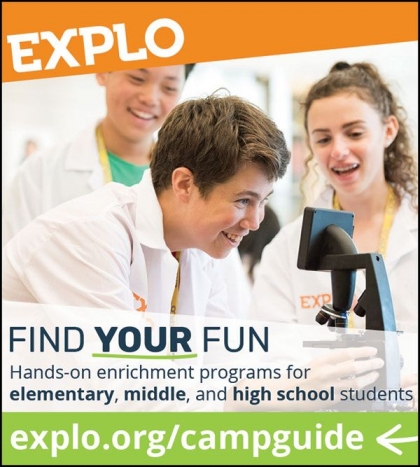 Located on the campuses of Yale University, Wellesley College, an Wheaton College for grades 2-12.
The curriculum at EXPLO is unusual: It allows students to investigate subjects they're not likely to encounter during the school year. Our courses aren't for credit and are ungraded. They encourage students to step away from focusing on performance and evaluation and instead follow their passions and interests. An EXPLO classroom is lively and active. Students are moving, designing projects, and challenging one another. Here, learning is captivating, challenging, and fun.
With more than 90 course offerings (ranging from behavioral psychology and medical careers to video production and economics), EXPLO is the place where you can pursue an already deep-seated passion or an interest you've never tried before. At EXPLO, you'll be part of an international community of students from over 40 states and 70 countries. You'll have engaging in-class explorations paired with out-of-class applications so that you can leave this summer with soft skills in design thinking, civil discourse, independence, and grit. Weekend trips to indoor skydiving, Boston's Museum of Fine Arts, major league baseball games, and New England beaches will invite you to step out of your comfort zone beyond the classroom and discover what excites you.
EXPLO offers more choice than any other summer program. Our programs are uniquely designed to prepare you for middle school, high school, university, and beyond. You'll meet industry leaders and thought leaders to learn about their paths to success as you explore your future careers and interests. Whichever path you choose, what you learn at EXPLO prepares you for where you go next.
Visit our website ot give us a call (781.762.7400) to learn more!
Categories:
Activities & Entertainment, Arts & Crafts, Childcare/Education/Nursery Schools, Computers and Technology, Cooking for Kids, Educational & Enrichment Programs, Science, Summer Camps