Business Directory
Camp Invention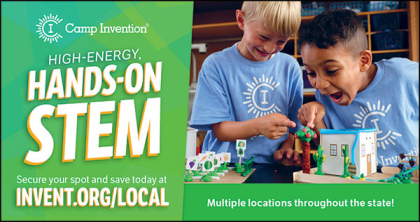 Invent Now is America's premier nonprofit organization dedicated to recognizing inventors and invention everywhere, promoting creativity, and advancing the spirit of innovation and entrepreneurship.  Camp Invention is a weeklong summer enrichment program for children entering grades one through six. The Camp Invention program instills vital 21st century life skills such as problem-solving and teamwork through hands-on fun!
Let your child be a part of something BIG this summer- Only at Camp Invention!
School districts and organizations throughout Connecticut are hosting the nationally-acclaimed Camp Invention program this summer. This amazing, weeklong adventure in Science, Technology, Engineering and Math (STEM) is the only non-profit elementary enrichment program backed by the National Inventors Hall of Fame.
At Camp Invention, we are all about big ideas! Camp Invention is a place where elementary students entering grades one through six will brainstorm, tinker, create and invent without limits. Children will use real tools, circuits and materials to build original prototypes. They also might take apart electronics to construct an epic, insect-themed pinball machine or create a multi-step invention to solve a given challenge. Children will find inspiration from inventors, including National Inventors Hall of Fame Inductees!
Led by local educators, children will work together to seek innovative solutions to real-world problems and sharpen critical 21st century learning skills as they rotate through four modules that provide unique approaches to everyday challenges.
Camp Invention inspires confidence in curious children like yours. Not just for a day or a week, but for a lifetime.
Please note:  New locations may be added – please visit www.campinvention.org for the most up to date list of Camp Invention locations throughout Connecticut.
Categories:
Activities & Entertainment, Educational & Enrichment Programs, Summer Camps