BLOG
February 8, 2018
Not all Spices are created equal

Whether this year your culinary debut or you're a seasoned chef looking for a fresh take on some seasonal favorites, you can take some notes from the pros. Every good chef has an arsenal of tricks and techniques to create amazing dishes every time, and the perfect blend of spices is one of those winning secrets.
.
Spice Islands®, the 75 year plus seasoning brand allows home cooks and master chefs to explore and share new flavors, recipes and cuisines. The Spice Islands® line of premium seasonings ensures that the highest quality flavors are always added to dishes. With the exciting array of spices sourced from across the globe, Spice Islands® opens your kitchen to an international world of possibilities.
Spice Islands® recognizes that not all spices are created equal. Spice Islands® buys many spices whole and then mills them in its facility to release their rich flavors and capture them in each bottle. Spice Islands® premium spices and seasonings adhere to strict specifications to ensure high volatile oil levels, meaning a higher quality and more flavorful product. From cultivating long term relationships with farmers throughout the world, to handpicking many of the spices, to maintaining traditions of drying many of the herbs and spices in the sun - tender care is put into each harvest to ensure the highest quality product.
Some stand outs from the Spice Islands® line up sourced from all over the world include:
Pumpkin Pie Spice – A warmly sweet blend of cinnamon, ginger, nutmeg, allspice, mace and cloves, Spice Islands® pumpkin pie spice captures the quintessential flavor of pumpkin pie. Not only does it give pumpkin pie a premium twist, but it can also be added to pancakes, apples or to make delicious seasonal drinks. (See Pumpkin Pie recipe, below.)
Dill Weed—Spice Islands® Dill Weed looks different than others as we wait until the plant blooms before harvesting. This is when the plant reaches its peak in flavor and why you'll see little yellow flower buds in each bottle
Bay Leaves—Spice Islands® sources a unique genus of Bay Leaf with a vibrant look and even more vibrant flavor than other burnt bay leaves in the market
Cumin— Spice Islands® cryogenically freezes Cumin Seed before milling to capture every bit of flavor for the finished product
Garlic Powder—Spice Islands® grinds Garlic to a true powder to release more flavor, unlike many Garlic Powders on the market that are really granulated and add grit to recipes, Spice Islands® Garlic Powder has the consistency of flour and incorporates easily into recipes
Saigon Cinnamon—Sourced from a different region than other cinnamons on the market, Spice Islands® Saigon Cinnamon has a red-hot candy flavor rather than the subtle woody flavor of traditional cinnamon
Turmeric—A hot trending spice due to its many great qualities, Turmeric is from the Ginger family and can be added to diets in numerous ways, including sprinkled on eggs, added to shakes, or as the star of our Golden Milk Latte recipe
These spices join the full line that includes Black and White Pepper, Capsicums, Rosemary, Thyme, Marjoram, Sage, Oregano, Basil, Parsley and more.
"Spice Islands® brings premium spices to another level," Says Julie Gould, Brand Manager. "We search the world for spices and herbs of the highest quality. Then we craft and package them to deliver the most authentic and intense flavor possible. Our line of premium spices helps give consumers the confidence they need to allow them to explore more in the kitchen. Our spices make a difference."
From the appetizers to the main dish to dessert, flavorful seasonings can make a good recipe great. Find more ideas for spicing up your holiday menu at SpiceIslands.com.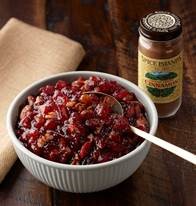 Cranberry Apple Chutney
Prep time: 15 minutes
Total time: 45 minutes
Yield: 2 cups
1 bag (12 ounces) fresh or frozen cranberries
1/4 cup water
2 large apples, cored and chopped
1 1/2 cups sugar
2/3 cup finely chopped onion
2/3 cup golden raisins
2 teaspoons minced fresh ginger
1 teaspoon Spice Islands Minced Garlic
1 teaspoon salt
3/4 teaspoon Spice Islands Ground Allspice
1/4 teaspoon Spice Islands Ground Saigon Cinnamon
1/8 teaspoon Spice Islands Ground Cloves
2/3 cup dark corn syrup
1/3 cup cider vinegar
2/3 cup chopped pecans
In large saucepan, combine cranberries, water, apples, sugar, onion, raisins, ginger, garlic, salt, allspice, cinnamon and cloves. Bring to boil over medium-high heat. Reduce heat; cover, stirring occasionally, 15 minutes. Add corn syrup, vinegar and pecans. Cook uncovered 15 minutes, stirring frequently.
Serve with lamb chops, roast turkey, pork roast or baked ham.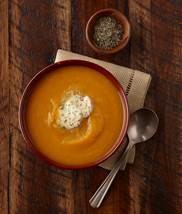 Butternut Squash Soup with Thyme Butter
Prep time: 35 minutes
Total time: 1 hour, 30 minutes
Yield: 6-8 servings
1 tablespoon vegetable oil
1 teaspoon Spice Islands Ground Ginger
1/4 teaspoon Spice Islands Cayenne Pepper
3 pounds (about 7 cups) butternut squash, peeled and cut into 1-inch pieces
2 medium cooking apples, peeled, cored, coarsely chopped
2 small onions, coarsely chopped
2 cans (14 1/2 ounces each) chicken broth
1/2 cup water
1/4 cup butter, softened
1/2 teaspoon Spice Islands Thyme
1/2 teaspoon Spice Islands Garlic Powder
Heat oven to 425 F.
In large bowl, combine oil, ginger and cayenne pepper. Add squash, apples and onions; toss to coat. Transfer to 15-by-10-inch baking pan. Roast in single layer 35-45 minutes, or until tender. Remove from oven.
Working in batches, combine squash mixture and chicken broth in blender or food processor; blend until smooth. Transfer pureed mixture to large saucepan. Stir in remaining chicken broth and water. Bring soup to boil; reduce heat and simmer, uncovered, 10 minutes.
Combine butter, thyme and garlic powder until well blended. Spoon onto wax paper and roll into 3-inch log; wrap tightly and refrigerate until firm.
To serve, cut butter into thin slices. Ladle hot soup into individual bowls; top each with slice of butter.
Tip: Puree can be made in advance, covered and refrigerated up to 2 days.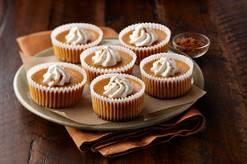 Mini Pumpkin Cheesecakes
Prep time: 15 minutes
Total time: 1 hour, 50 minutes
Yield: 18 mini cheesecakes
18 paper baking cups (2 1/2 inch diameter)
18 gingersnap cookies
12 ounces cream cheese, softened
3/4 cup sugar
1 tablespoon corn starch
1 teaspoon Spice Islands Pumpkin Pie Spice
2 eggs
1 cup canned pumpkin
1/3 cup light corn syrup
Heat oven to 325 F. Line muffin tin with paper baking cups. Place 1 cookie in each cup.
With electric mixer, beat cream cheese, sugar, corn starch and pumpkin pie spice. Add eggs and mix well. Add pumpkin and corn syrup; beat 1 minute.
Pour filling into liners, dividing evenly. Bake 30-35 minutes until just set.
Chill 1 hour.
For more recipes, visit SpiceIslands.com
About B&G Foods, Inc.
B&G Foods and its subsidiaries manufacture, sell and distribute a diversified portfolio of high-quality, branded shelf-stable and frozen foods across the United States, Canada and Puerto Rico. Based in Parsippany, New Jersey, B&G Foods' products are marketed under many recognized brands, including Ac'cent, B&G, B&M, Baker's Joy, Bear Creek Country Kitchens, Brer Rabbit, Canoleo, Cary's, Cream of Rice, Cream of Wheat, Devonsheer, Don Pepino, Emeril's, Grandma's Molasses, Green Giant, JJ Flats, Joan of Arc,Las Palmas, Le Sueur, MacDonald's, Mama Mary's, Maple Grove Farms, Molly McButter, Mrs. Dash, New York Flatbreads, New York Style, Old London, Original Tings, Ortega, Pirate's Booty, Polaner, Red Devil, Regina, Sa-són, Sclafani, Smart Puffs, Spring Tree, Sugar Twin, Trappey's, TrueNorth, Underwood, Vermont Maid, Wright's and now, Durkee, Spice Islands, Tone's and Weber. B&G Foods also sells and distributes Static Guard, a household product brand.
BACK TO BLOG