BLOG
June 3, 2021
GPS trackers to be compatible with the LTE-M update of 4G cellular networks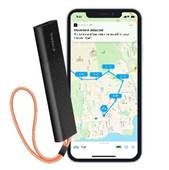 It's difficult for even the most attentive parent to always know where their children are at any given time. Thankfully, keeping an eye on your little ones is becoming much easier thanks to Invoxia, creators of one of the first GPS trackers to be compatible with the LTE-M update of 4G cellular networks. Invoxia Cellular GPS Tracker is here to give parents some peace of mind when it comes to their children's safety.
The Cellular GPS Tracker has a host of advanced features including its ability to work inside and outdoors as well as its exceptional battery life of up to 4 months! It is discreet, compact, and portable enough to be placed virtually anywhere. Its comfortable design won't interfere with children's range of motion. And it locks tight onto school bags or clothes to stay with them from home to bus to the classroom and beyond. These features are thanks to a novel combination of radio technology protocols that switch between Bluetooth and LTE CAT-M1, 4G network.
Advanced Features:
GPS Tracking – Visualize exact location of items and loved ones at any time within the companion app. Location data can be requested any time or sent every 5, 10 or 30 minutes when on the move.
History – See precise route of the Cellular GPS Tracker during any time period.
Anti-Theft Alerts – Receive notifications in real-time when an item is moved or suspicious activity is detected. Alerts can be triggered by moving an item or by gentle vibrations such as lock tampering.

Panic Alert – Emergency button feature helps notify an individual if their loved one is in trouble through a push notification.

Geofencing Alerts – Set geographic areas in companion app to be notified when Cellular GPS Tracker enters or leaves the security zone.
Proximity Radar – Access hot/cold proximity radar on a smartphone to find valuables more easily inside and outdoors.

IFTTT Compatibility – Connect Cellular GPS Tracker to favorite connected products and services to automatically trigger actions E.g. Setting the house alarm when leaving the home or opening the garage door when entering a driveway.
Another idea is to attach it to your key chain and never lose your keys again! A gift to all ages!
BACK TO BLOG