BLOG
January 16, 2018
CHAMIILIA INTRODUCES VALENTINE'S DAY 2018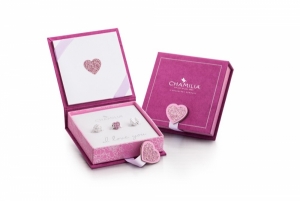 valentine's day 2018
'OOH LA LA' CHAMILIA INTRODUCES VALENTINE'S DAY 2018
This season, Chamilia (www.chamilia.com), a Swarovski company, will feature three new charms and two fun-loving gifts sets for Valentine's Day 2018. The entire Chamilia line is made from sterling silver or 14 karat gold and features genuine Swarovski Crystals and Swarovski Zirconia. The brand follows strict Swarovski guidelines for quality and aesthetic standards.
"The theme for 2018 is 'Let's not take style so seriously,'" said Chamilia Vice President, Global Merchandising and Marketing Catherine Ottaviano. "The Chamilia woman is celebrating herself and choosing jewelry that is as special as her life is. Our Valentine's Day product offerings this year are our 'hugs and kisses' to her."
The Chamilia Valentine's Day 2018 Collection will be available starting January 14, 2018 and will be sold at the brand's more than 2,000 retail partners worldwide and on the Chamilia website. For more information about the Chamilia brand, please go to www.chamilia.com. 
BACK TO BLOG