BLOG
March 24, 2021
Activities to Help Kids Empower Women
Activities to Help Kids Empower Women
March marks Women's History Month, a celebration of the incredible achievements of women throughout American history. Women play such vital roles in the advancement of science, the arts, social change, and more, and yet there is still much work to do towards equality for all. It's important to teach kids about this significant recognition of female accomplishment and encourage them to use their voices to empower the wonderful women around them. 

To close out Women's History Month, read on for some fun and empowering tips and activities to help kids uplift women of all ages and backgrounds. 

Identify Leadership Qualities
One excellent family activity is to help kids identify leadership qualities in different women. This worksheet will encourage you to think about people you know who are inspiring, empathetic, creative, and more. First, go through this list and write down the names of friends and family members who fit each role. Then, go back and discuss who you chose for each quality and why. Last, you can call or send each person a message to let them know you admire their unique strengths.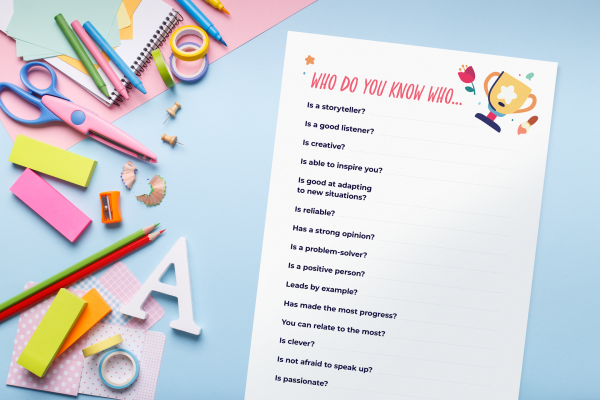 Give Sincere Compliments
Another way that kids can empower women is to learn to give better, more genuine compliments. To sincerely compliment to the women around them, kids can practice applauding a person's character, accomplishments, skills, and attitudes instead of focusing on their appearance. 

Respectfully Disagree
The women in our lives should be allies, not adversaries. Teach children to respect each other, even when they disagree on certain points. To do so, use this chart to think about how you can rephrase certain hurtful words or nonconstructive statements when talking through a disagreement. 
Actively Listen
Our last activity is to encourage women to use their voices by actively listening. Introduce this idea to kids by practicing listening with kindness and respect. Just like respectfully disagreeing, active listening is an important skill that will help children form strong connections and be there for others. By giving other people, regardless of perceived differences, your full attention, asking questions, and putting yourself in their shoes, you show them that their voice and opinions matter.


There are lots of other great ways to encourage female camaraderie in children, such as through extracurricular activities like sports, clubs, and mentor groups. With these seemingly simple activities, you can help kids learn and appreciate more about themselves and the powerful women in their lives.
BACK TO BLOG