BLOG
December 15, 2020
A trip to pick out our Christmas Tree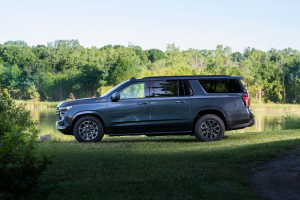 2020 has been such a roller coaster of a year. As we look toward the positives of the holiday season, our family decided to put our Christmas tree up earlier than normal.
This year to make it special we decided on 2 trees! Why not! Two Fresh, big beautiful trees to brighten the holidays and our house. One for the living room and one for the 3 season porch.
My first thought was how we would ever get them home from the tree farm? The tree farm was 45 minutes away! Well, that was not a problem at all when we had a 2021 Chevy Suburban!
The Chevy Surburan is the longest-running nameplate in automotive history at 85 years. For the 2021 model Chevrolet has taken what people love most about the Suburban and made it even better – with more room for people and cargo, advanced technologies and unmatched driving experience.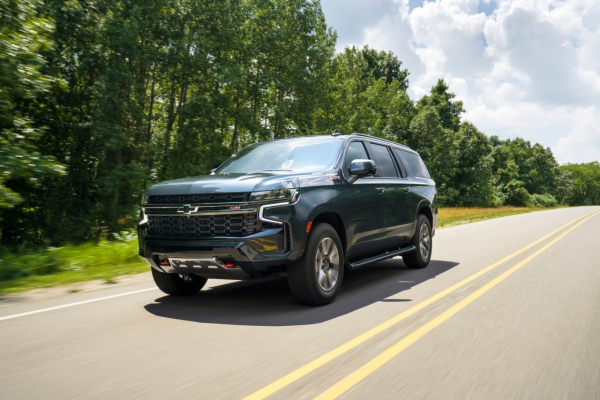 The five of us had ample room in the 2021 Suburban. We were traveling in comfort! The third row in the Suburban has been enhanced on the 2021 model to offer a more comfortable chair height long with more leg room than the previous generation. Leg room is essential when traveling with tall teenagers. The All-New Suburban also offers the most advanced available suspension in its class with an independent rear suspension, available Magnetic Ride Control™ and a first-in-class Four-Corner Air Ride Adaptive Suspension.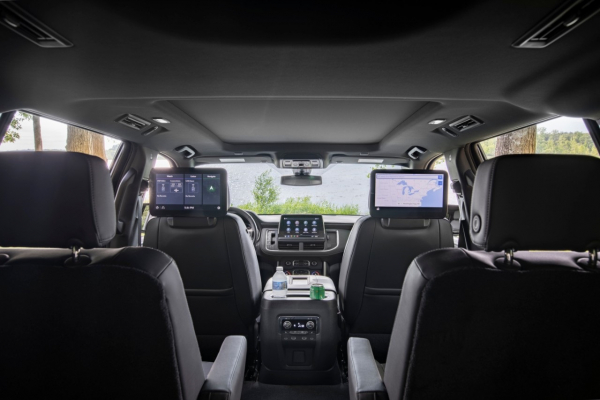 During the drive my son took over the Technology options. The Rear-Seat Media System, Head-Up Display, Apple CarPlay, 4G LTE Wi-FI and the HD Camera Views!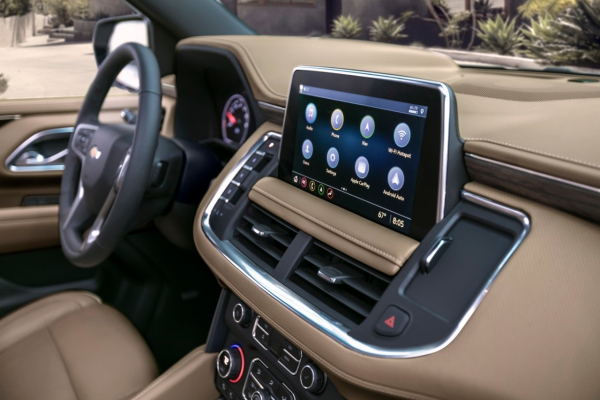 Once at the farm we inspected many trees. Finally agreed on 2 trees that would be perfect for our home. My son got low to the ground and cut the trunk straight across. Perfect!
Now to transport the trees home! We put up a tarp and the netted trees on top of the Chevy Suburban. I learned that the stump always faces toward the front of the vehicle. This is the most aerodynamic way to transport the tree. We laid the trees directly over top the cross rails, looped twine over and around, and repeat to cinch with a "figure-8" motion. This protected the tree from moving around while we drove home.
We brought our trees home with out any problems in this SUV. Both trees fit on top with no issues at all. For comfort and cargo space the 2021 Chevy Suburban is the way to go!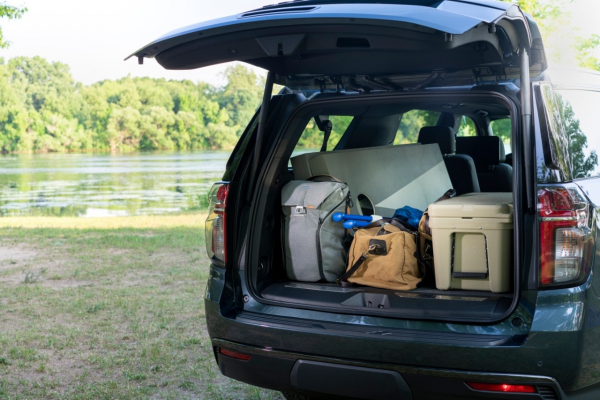 BACK TO BLOG