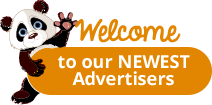 Welcome to Connecticut Kids & Family!
March is Down Syndrome Awareness Month!

A world where our children, our brothers, our sisters, and our friends who have Down Syndrome are included in all aspects of life, are empowered to meet their needs and are recognized for their contributions. (Connecticut Down Syndrome Congress)
Are you ready to plan your Summer Camps and Summer Programs? We are ready to give you great options to chose from! If you are looking for some fun activities this month, please check out our online events calendar for great ideas around the state.  Planning that special end of school or summer birthday party?  We have lots of entertainment listed in our Party section!

We would love you to Like us on Facebook!
Spring is on the way!
Please be sure to tell our advertisers where you found them - they really do like to know!
Kathy Barnett

Publisher

FEATURED EVENTS
Hi Barb!
I just wanted to thank you again for the tickets! The show was awesome and the seats were great! We had a fabulous time and have told all of our friends about your site and how cool it is! We had a blast!! Enjoy the rest of your weekend. Michelle - Mom and Contest Winner