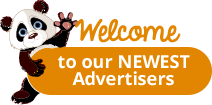 Welcome to Connecticut Kids & Family!
Happy New Year!

Welcome 2018, this year is going to be amazing!
We want to wish you a very happy and healthy New Year!
We appreciate you stopping by our CT Kids and Family website! This website offers so many wonderful ideas of fun things to do, classes to take, weekend getaways and much more. It may be bitter cold outside but it's time to plan Summer Camps and Programs to keep the kids busy and learning this summer!

Check out our online events calendar  for events and activities around the state.  Our calendar is updated daily so check back often!  Planning that special winter birthday party and need ideas?  We always have a  Party section! With party planning I like to suggest a great birthday gift is a gift certificate to a show, museum, trampoline place, IOU to a favorite Zoo and so many other ideas! When you give a gift certificate you support your local Small Business owner!
Don't forget to check out our Enter to Win - this is my favorite part sharing great prizes with you.

Like us on Facebook!
Please be sure to tell our advertisers where you found them - they really do like to know!
Kathy Barnett

Publisher

FEATURED EVENTS
Connecticut Kids & Family has really been awesome over the years for our advertising needs. Both our facilities the Northford Ice Pavilion and the Milford Ice Pavilion have benefited from this wonderful magazine. We have been advertising with Barb Doyle since 2001! Barbara is very good with sending out email reminders for print dates and the costs can't be beat!! Keep up the great work.
The Northford Ice Pavilion & The Milford Ice Pavilion