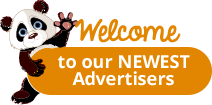 Welcome to Connecticut Kids & Family!
Happy May!

Still haven't got your head around summer camps? No worries we can help plan your Summer Camps and Summer Programs!   We have so many great options to chose from!  Circus Camps, Gamer Camps, overnight and day camps you name it we have it listed! So many outdoor activities this month, check out our online events calendar .  Planning that special end of school fair or summer birthday party, we have lots of entertainment listed in our Party section!

Don't forget to Like us on Facebook!
Please be sure to tell our advertisers where you found them - they really do like to know!
Kathy Barnett

Publisher

FEATURED EVENTS
I'm so in love with your website. If not for you, I would be stuck in the house with nothing to do for the kids this weekend!!! Keep up the good work! Mia - Mom and website fan.