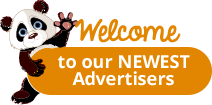 Welcome to Connecticut Kids & Family!
We appreciate you stopping by our CT Kids and Family website! This website offers so many wonderful ideas of in person and virtual offerings. We have lots of Holiday Happening ideas and the start of Vacation and Summer Camps!
We invite you to check out our online events calendar  for events and activities around the state.  Our calendar is updated daily so check back often!
Are you planning that special summer birthday party and need ideas? We have a great  Party section! 

Don't forget to check out our Enter to Win!

 And Like us on Facebook!  
Please be sure to tell our advertisers how you found them - they really do like to know!
Kathy Barnett, Publisher

We received the sweetest emails, like this one! Thank you Jordan and Kim for being our biggest fan!
Hello Kathy,
My name is Kim Davis. I am writing in regards to possibly being put on a monthly mailing list (if you have one) where you can send me your magazine/brochure when they are printed each month starting with the May 2020 issue.
My son Jordan who has severe autism and is non verbal is obsessed with your little brochure and we constantly have to go running around to different places trying to find them. It's not an easy task with my son especially if they do not have any so I was hoping mailing one to me each month is possible. Believe me, if my son is obsessed with something it definitely is a compliment. 
I know you have it online where I can print it off but unfortunately that does not satisfy Jordan. He likes the touch and feel of the magazine. It's amazing how he goes through each page thoroughly checking out the pictures and all the different information you provide.
 I did leave a message on the voicemail at the office but with the world being the way it is right now I'm not sure if your office is even open so hence why I emailed as well.
 Thank you for any help you can give. It's truly appreciated,
 Kim Davis
FEATURED EVENTS
I LOVE Connecticut Kids & Family! I carry it around in my purse all month long. And if I misplace my copy, I just hop on the website and it's all right there. I really rely on this thing!

Andrea F. – Wallingford