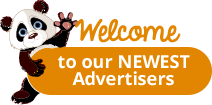 Welcome to Connecticut Kids & Family!
Summer is going so fast - It's August!

We are so happy you stopped by our site! Check out our Summer Fun and Daytrip ideas and make the most of August! Also our online events calendar  has great events and activities around the state.  Our calendar is updated daily so check back often!  Planning that special summer birthday party or block party, we always have a  Party section!

Don't forget to Like us on Facebook!
Please be sure to tell our advertisers where you found them - they really do like to know!
Kathy Barnett

Publisher

FEATURED EVENTS
"We moved to CT at the end of August, 2012, and we visited Quassy with the CT Kids and Family deal that September. We had such a fun time, and it was one of the first activities that we did that got the kids feeling good about life in CT. See? You never know just how positively you are impacting people! :)" Kathleen - Mom and fan!