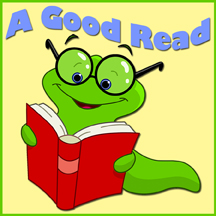 A GOOD READ is our Book Review section and is provided to you as a helpful guide to current and classic books that we think are worthwhile reading for you and your children.
We believe in enhancing the child/parent relationship through reading time. Time spent reading aloud with our little ones significantly develops their speech, vocabulary, memory, listening and imagination skills. Reading to your child is a gift that a parent can give that lasts a lifetime.
Our Book Reviews are completed by Jenny Tananbaum.  Jenny, mom to three, is a writer, focusing on kid-friendly activities and travel, and a blog called 'Suburban Mom' about surviving motherhood.  As an avid reader - and raising three voracious bookworms - Tananbaum is always on the look-out for both new books and old classics and loves sharing her thoughts and reviews with other moms and dad!