Business Directory
Make-A-Movie Parties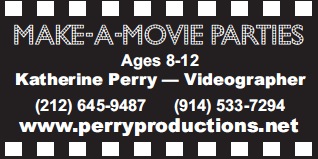 Make-A-Movie parties are designed for the 7-12 age range in groups of 15 kids or under, but have been done for up to 30 kids.  There are a bunch of different themes – Action/Adventure (The Jewel of the Nile), Rock Video Awards (often done as American Idol), America's Next Top Model, America's Got Talent, The Wacky News, the Detective Story (often done as "Clue"), Intergalactic Rock Show, the Wacky Olympics, The Black Hole, Under The Sea or your child can write their own movie and I work with him or her to make an improvised script.  All movies are improvised, so there is no dialogue to memorize – we make up the lines as we go along.  I set up the scene, shoot the scene, and then we move on to the next scene.  I shoot with an HD camera and then plug my camera up to your TV (or mine) to watch the movie after we have made it.  I generally shoot in your home or wherever you are having the party – I do not have a studio.  Basically it takes about an hour and a half for me to do my part (getting them into costumes and shooting the movie) and then another half hour to watch the movie (usually between 10-15 minutes long) if you are eating while watching or budget another 45 minutes if they are eating in a different room and then watching the movie.
The price of the party is $395 with 10 free DVDs.  Additional DVDs are $10 each.  I can also provide individual personalized Oscars at $10 each as party favors.
If you would like to book a party, I would need a $100 deposit to reserve the time.  Please let me know if you are interested.
Thanks!  Katherine Perry  914-533-7294
Katherine Perry
Videographer
10 Deer Run Road
South Salem, NY 10590
Email – kperryennis@yahoo.com
Website –www.perryproductions.net
Categories:
Activities & Entertainment, Music/Drama, Party Resources