Business Directory
Game Haven Summer Camp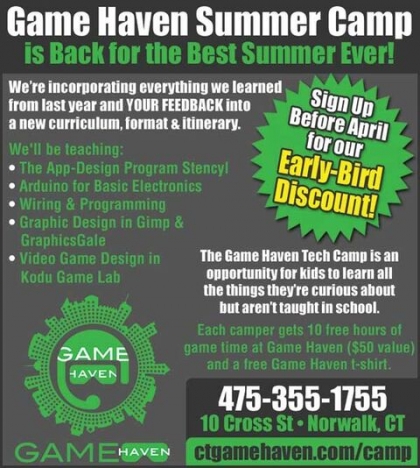 ADVANCED Course Descriptions:
LEGO Mindstorms (
http://lego.build/1qpIGFR
): LEGO Mindstorms is a LEGO system designed to offer children an introduction into STEM curriculum focused on technology, engineering, math, and computer science.  The Intelligent Brick is a programmable computer that controls motors and collects sensor feedback and data.  In this course you will learn about the assembly of your robot, the sensors, and how to program your creation.
SparkFun (Arduino) (
http://bit.ly/1Y3r3ZJ
): Introductory course to the world of computer hardware starting with the basics of how electricity works all the way up to wiring!  We will be using the SparkFun Digital Sandbox to take feedback / input from light and temperature sensors and control LED, audio levels, and thermostats.  The Sandbox hooks up to a computer through the USB interface and allows students to experience the Arduino programming environment.
Stencyl (
http://www.stencyl.com
): Make games and apps for mobile platforms like iPhone and Android Phones!!! This course will give students the opportunity to experience video game design and animation elements.
Categories:
Activities & Entertainment, Summer Camps, Summer Family Fun