BLOG
July 20, 2022
Blitz Champz, #1 Football and Math Card Game, Created by Female Football Star Adrienne Smith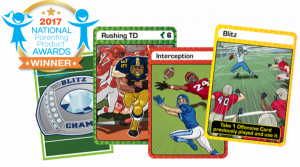 Blitz Champz, a fun and educational football-themed card game for kids 7 and up that blends the excitement of football with critical math skills.  The game has been adopted by schools and educational programs, and has been utilized by some NFL teams and NFL FLAG as a fun and effective learning tool for kids. The game features a diverse lineup of male and female players, and is easy to learn in two minutes or less.
Blitz Champz is a fun and competitive card game that teaches and tests football knowledge, strategy, and critical math skills. Created by Adrienne Smith, Boston Renegades Wide Receiver, football advocate and spokesperson, and entrepreneur, Blitz Champz emphasizes the importance of learning critical math skills while having fun.
The game features 100 vibrantly-illustrated playing cards characterizing a diverse lineup of male and female players. A selected product at Walmart's 2018 Annual Open Call Event, and a 2017 National Parenting Product Awards (NAAPA) winner, Blitz Champz is a simple way to bring the magic of football, math skills and fun into kids' lives, and into schools, homes and communities. Today, Adrienne Smith is one of the best-performing wide receivers in women's football history, having won two gold medals and five national championships in women's tackle football. This year, the veteran wide receiver also set a new all-time record for receiving yards (5,093) in the Women's Football Alliance (WFA).
The New England Patriots have said of Adrienne, "She cannot be stopped," and the Times Union has called her "The face of women in football."
BACK TO BLOG